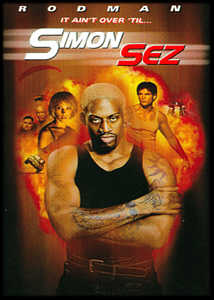 Print: Good - Sound: Good - Label: Columbia Tristar - Year: 1999 - Cover: OK - Format: 1.78:1 - Length: 1h22m/1h18m - Before: No - Again: No - Price: £1 - Rating: 5.5/10.
In
Simon Sez
, Interpol agent
Simon
(
Dennis Rodman
) is working a case against an arms dealer when he runs into
Nick Miranda
(
Dane Cook
), a CIA agent attempting to deliver a ransom and bring home a clients kidnapped daughter.
It isn't long before the two are entwined in a deadly game of espionage and murder involving the arms dealer, the high-powered father of the kidnapped girl, and Simons ex-girlfriend (
Emma Sjoberg
), who is a lethal weapon!
Simon Sez
is one of those movies I hate, a bad action comedy, so I wasn't pleased, it was silly and unrealistic! If you like these kind of movies, you may like it!
Here is the trailer...