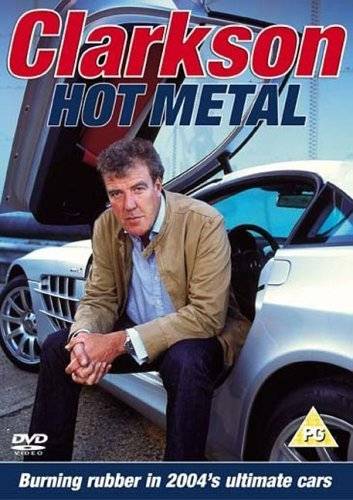 Print: Good - Sound: Good - Label: VCI - Year: 2004 - Cover: Good - Format: 16:9 - Length: 1h/1h - Before: No - Again: No - Price: £1 - Rating: 6/10.
In
Clarkson Hot Metal
,
Jeremy Clarkson
tells us how everything is slowing down. The Concorde is in a museum, and even warships are slower then those 50+ years ago. But is it the same for todays cars, and why?
Are the new breed or cars faster then those of the 1980s? Are they quicker in a straight line? Do they corner faster? Which are better looking and which can make the best noises even? That means the 200 mile per hour
Jaguar XJ220
taking on a
Pagani Zonda
, a
Mclaren Mercedes SLR
against a
Porsche Carrera GT
, and the
Fort GT
with the car that spawned it, the
Ford GT40
. The
Aston Martin DB9
is here, taking on the
V8 Vantages
. And the
Evo 8
? How much faster is it than the
Evo 1
?
And for a bit of fun
Jeremy
had to riddle a
Nissan
with machine gun fire, as he takes up the new and dangerous sport of
Clay Car shooting
:)
Clarkson Hot Metal
is good, but not as good as later
Clarkson
offerings, and the picture quality was a bit chunky in places too! Its still worth watching though!
No trailer or clip from this DVD, but here is Jeremy on Top Gear...